Here's the plot……
A child is taken from his group. He is buried alive and miraculously survives on rain water and dirt. Slowly, as he grows, he starts to push his way out of the soil. He finally gets tall enough to feel the sun. He waves his arms in the air hoping for some kind of attention from the woman who leads a group as they go past him on a bright sunny day. She and her group ignore him and he is left to the elements again. Just when he is strong enough to stand fully on his own, someone stomps up and cuts his legs off quickly followed by someone who ties him up. He is grabbed by metal bits and claw hands and shoved into the back of a wagon. He is hauled into a large barn and his head is bashed back and forth against a stone on the floor. He looses his arms and is powerless to defend himself in any way as he is flailed and torn apart. Finally when he can endure no more, he is drowned in a vat of water and left inside to boil and turn to mush. His spirit survives and is split amongst many vessels. It possesses others and leads them to repeat his torture over and over again on other children just like him.
Does this sound familiar? It should. It is one of the oldest Folk Horror narratives in the world. This is the tale of John Barleycorn. It is an allegorical rendering of the process of cultivating grain and using it to make alcohol.
In the ancient world the year was divided into a light half and a dark half- a time for growth and a time for death. In a time where everything was geared towards survival, death was in close proximity and reigned over men, beasts, and the land. Death had to be held off with bargains. The sun had to be helped to return each morning and to grow warmer each summer in order for the grain to grow. Offerings had to be made and some things had to be killed in order for man to prosper. If man wants bread and beer in the dark half of the year, John Barleycorn must die.
This ancient tale is shrouded in nostalgia. Ploughmen, May Queens, Farmers sowing seeds and Reapers gathering wheat all play picturese roles in the tale. It is part of the overall arc of agricultural endeavor whose success is displayed by overflowing baskets of apples, beans, carrots, onions, etc. The culmination of the whole year is the harvest which will determine the fate of the community. Naturally, it was a time to celebrate.
https://yourehistory.wordpress.com/2019/09/26/fall-equinoxharvest-home/
Ancient celebrations have evolved into modern festivals. One such celebration is October Plenty- a party commemorating the apple harvest and featuring a wide range of traditional performers from London. Needless to say, the festival was met with challenges in 2020, but it was held on line.
In this festival, the masculine aspect of harvest is embodied by the Berry Man who leads a joyful parade through the streets .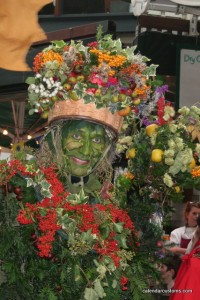 As the parade progresses, it escorts the Harvest Queen as she travels to meet her people.
At the end of the celebration the Queen is pulled apart. The food that makes up her body is distributed to the revelers with a blessing and a wish for good luck in the coming year. Jane Barleycorn has died.
October Plenty is organized each year by a group called The Lion's Part. This organization is dedicated to keeping the spirit of Shakespearean Theater and traditional performance alive in the historical streets of London. In 2020, they concentrated their efforts on providing venues for artistic expression and avenues of income for their members effected by Covid 19 lockdowns.
http://www.thelionspart.co.uk/aboutus/index.html
The Lord and Lady of the Harvest are often portrayed as corn dollies. These apatropaic figures embody wealth and fertility. Sometimes they are burned in effigy to symbolize the passing of one season into another. Mini Wicker Men and Women to bless future apples,
https://www.victoriamusson.com/
Many a song with supposedly ancient pedigree has been written about John Barleycorn harkening back to Pagan times. The story is assuredly that old, but the songs are not.
Some versions of this story are sung in a dreadfully cheerful and upbeat manner. Here are 2 very traditional style versions.
Here is an extremely modern version.
Long ago, in the 1970's, a certain little girl heard a version of the song on the radio. It seemed so alien to the culture and landscape of Miami, FL. It was about murder and torture but the death was for a good cause. It was a song that seemed to talk of a magical time in the past where autumn leaves carpeted the ground and horse drawn carts carried people over hills. The song stuck with her forever. Ms. Sid still listens to it every year on the Autumn Equinox.
Now, Ms. Sid has discovered other versions of the song. Here is a current favorite .
Folk horror examines the scenario of the required death and asks us to choose who it is that is going to be the victim. It plays on the human need for control and the craving for predictable outcomes by showing us groups that have figured out how to make it work, but at a tremendous price. The whole thing gets wrapped up in a nostalgia bomb so we have to wade through memory and history in order to decide if we think the price is worth it.
Who witnesses it all? Who knows if we chose rightly in either rescuing the sacrificial person or rescuing ourselves? Who had retreated, but is now braving going out into the open? Who seems to be benefiting from the death of the loud, fast, hyper active 21st century human condition? Those creatures peering at us from the edge of the woods. All those creatures of the wild, possibly domesticated, but still wary and all knowing.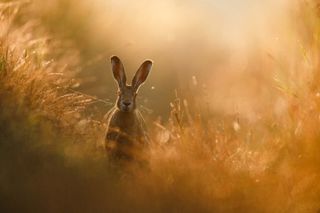 There were three men come out of the west, their fortunes for to try
And these three men made a solemn vow, John Barleycorn would die
They've ploughed, they've sown, they've harrowed, thrown clods upon his head
Till these three men were satisfied John Barleycorn was dead
There's beer all in the barrel and brandy in the glass
But little Sir John, with his nut-brown bowl, proved the strongest man at lastThey've let him lie for a long long time till the rains from heaven did fall
And little Sir John sprang up his head and so amazed them all
They've let him stand till midsummer's day and he looks both pale and wan
Then little Sir John's grown a long long beard and so become a man
There's beer all in the barrel and brandy in the glass
But little Sir John, with his nut-brown bowl, proved the strongest man at last
There's beer all in the barrel and brandy in the glass
But little Sir John, with his nut-brown bowl, proved the strongest man at last
They've hired men with the sharp-edged scythes to cut him off at the knee
They've rolled him and tied him around the waist, treated him most barbarously
They've hired men with the sharp-edged forks to prick him to the heart
And the loader has served him worse than that for he's bound him to the cart
So they've wheeled him around and around the field till they've come unto a barn
And here they've kept their solemn word concerning Barleycorn
They've hired men with the crab tree sticks to split him skin from bone
And the miller has served him worse than that for he's ground him between two stones
There's beer all in the barrel and brandy in the glass
But little Sir John, with his nut-brown bowl, proved the strongest man at last
There's beer all in the barrel and brandy in the glass
But little Sir John, with his nut-brown bowl, proved the strongest man at lastAnd the huntsman he can't hunt the fox nor loudly blow his horn
And the tinker he can't mend his pots without John Barleycorn