Ms. Sid is sure there has been a question you have been wanting to ask.
If Craftoween is a Halloween celebration, and Halloween is about harvest and Autumn, how is all of this information about bunnies and summertime stuff and apples relevant?
Short answer: Because Winter is coming.
Long answer: Because when we look at Folk Celebrations that are based on the agrarian calendar, we are looking at a set of actions that as a whole are designed to increase the chances of a good harvest come Autumn. NO matter the culture, the time period, or the hemisphere, encouraging successful planting ( Spring images of newborn animals and flowers) , generating positive energy for strong growing plants ( Summer activities of fertility and happiness like dancing and drinking), and working together for a safe and bountiful harvest ( singing, making crafts out of harvested products, etc.) is incredibly important. Because you have to be safe and healthy and have lot of stored up food for yourselves and your animals. Because Winter is coming.
When we step into a Folk Horror narrative and view a protagonist getting swept away in a celebration, we are looking at an isolated event that happens as part of a calendar cycle. We are looking at a celebration that is taken out of context. And, we are seeing the internal and external conflicts that happen when non-contextual elements are introduced to the event. The results of the conflicts vary and usually end up being very unfortunate for at least one of the parties involved. Kind of like when we feed rabbits things like carrots and apples that are too high in sugar content for their systems to process in a healthy way. They are having a great time, but they might not live very long afterwards.
Those folk rituals that are happening to ensure a good harvest are part of a larger ancient idea- that you have to work hard and do specific things in order to ward off evil. Those rituals are apotropaic magic in one form or another. It is easy to see why the rituals instill fear in people who don't understand them. But that fear starts long before the musicians start to play and the animal masks go over the villager's faces.
Apotropaic items tend to be very culturally specific. If you are not part of a culture, you may have a hard time understanding what one of these items is for. If you are unable to figure it out, you can become suspicious of the nature of the items. And if you start to see these things everywhere, your suspicion can turn into fear. Exploiting this particular avenue for fear is the base of the Folk Horror genre.
There are some common apotropaic items that are seen in Folk Horror movies. Their appearance is perceived to be evil. The irony is that the items are actually there to ward off evil.
Some of them are easy to see as pretty and harmless.
https://www.express.co.uk/showbiz/tv-radio/1241025/The-Pale-Horse-BBC-Series-What-Do-Corn-Dolls-Mean-Represent-Witches-Magic-Omen-Rufus-Sewel#:~:text=Occult%20World%20said%3A%20%E2%80%9C%20The%20corn,a%20centerpiece%20in%20seasonal%20celebration.%E2%80%9D
Corn Dollies have evolved into a beautiful art form.
Other warding items are kind of spooky
In China, red cut paper protects against negativity and brings good luck.
Some of these warding items can be pretty naughty!!!
http://foottalk.blogspot.com/2020/05/apotropaic-magic-and-naughty-bits.html
Eggs and other everyday items have elevated status in some cultures. In Germany, pigs are for good luck!
Some indigenous warding items were re-contextualized by colonizers
In fact, Ojos were all the rage in the 1970s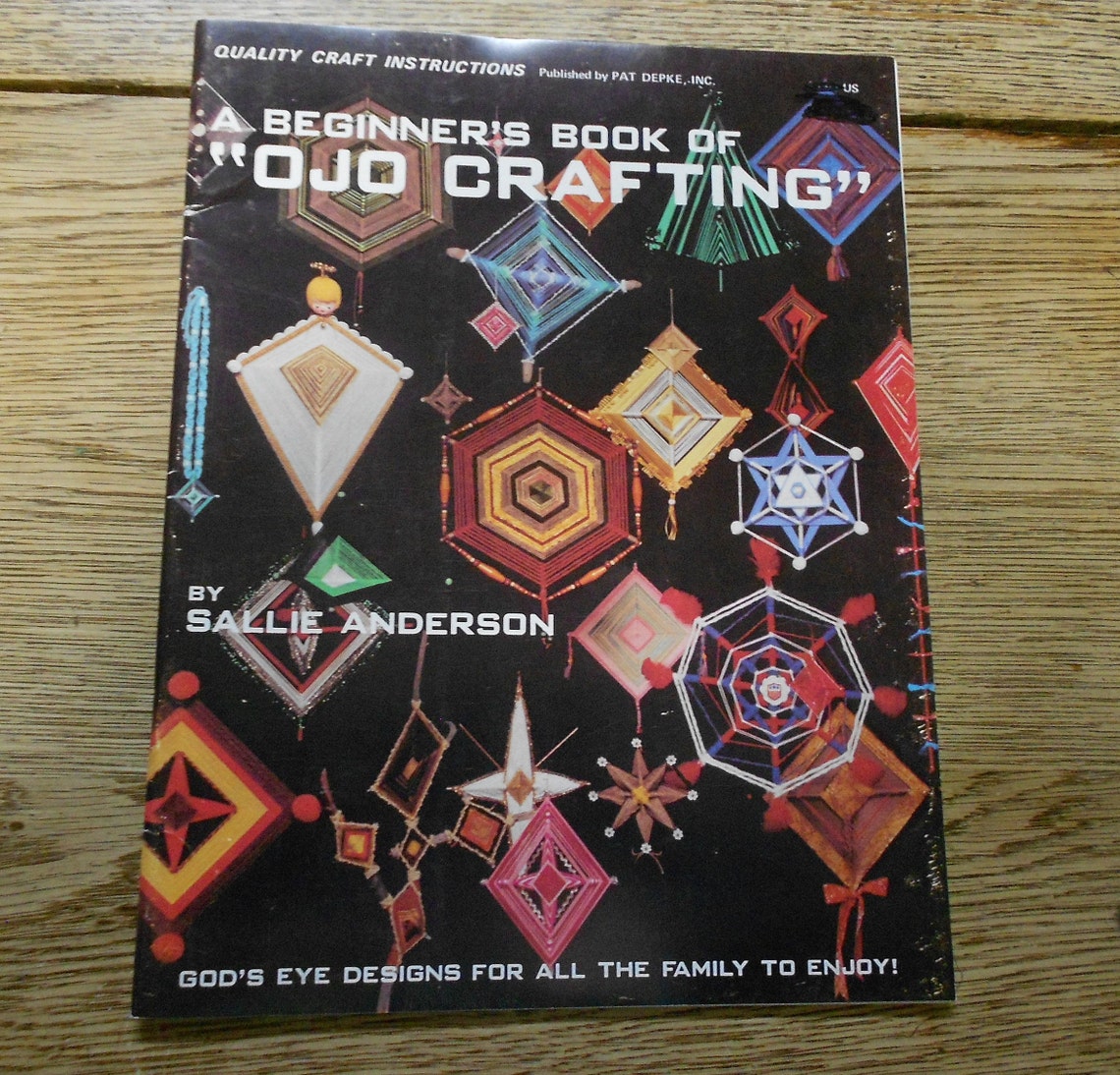 Modern artists are bringing new focus to this fiber art.
https://www.countryliving.com/life/a36023/jay-mohler-mandalas/
As wary as people are of these items, they cannot deny their beauty. Appropriation happens a lot.
Remember these from the 1990s?
Even mundane upcycled objects can become apotropaic when they are assigned significance within a given culture.
Sometimes, it is not an object, but a color that takes on significance.
https://www.atlasobscura.com/articles/what-haint-blue-means-to-descendants-enslaved-africans
Ms. Sid has used blue for one of the signature colors of Coney Craftoween. It has an ancient association with protection and calm- which are much needed in the world right now.
https://www.colormatters.com/the-meanings-of-colors/blue
Red is another color featured this year- red has associations with vitality.
https://www.colormatters.com/the-meanings-of-colors/red
Green is for prosperity
https://www.colormatters.com/the-meanings-of-colors/green?highlight=WyJncmVlbiIsIidncmVlbicuIiwiZ3JlZW4ncyJd
Warding amulets are incredibly common if you know what you are looking at.
Of course, there are rabbit's feet. The one hanging from the Three Hounds House chandelier is from 1950 and belonged to Ms. Sid's father! The embroidered Mati and hanging charms are from Crafotweener Ms. B!
And there are horseshoes
https://people.howstuffworks.com/horseshoes-lucky.htm
Sometimes, there is a religious context for these items
There are Palm Crosses
https://www.craftsalamode.com/2012/04/palm-crosses.html
And Mezuzahs
And the Hamsa
https://en.wikipedia.org/wiki/Hamsa
And lucky cats
https://www.weninchina.com/lucky-cats
There is one item that wards off evil that is especially popular at this time of year….
https://www.history.com/news/history-of-the-jack-o-lantern-irish-origins
But there is one uniquely American item that people see everywhere. It is at schools and public buildings, it is fancy or plain, it transcends religion, political party, orientations, and gender. The general perception is that it is a very old tradition spanning hundreds of years. It isn't. The concept was started in the 1970's because of a pop song.
https://www.songfacts.com/facts/tony-orlando-dawn/tie-a-yellow-ribbon-round-the-ole-oak-tree
https://www.colormatters.com/the-meanings-of-colors/yellow?highlight=WyJ5ZWxsb3ciLCJ5ZWxsb3cncyIsIid5ZWxsb3cnLiIsInllbGxvdyciXQ==
Over time, yellow ribbons became international symbols for freedom.
https://www.bbc.com/news/uk-29521449
Yellow ribbons inspired the use of other colors of ribbons to display awareness for various causes. These cause ribbons are not necessarily apotropaic, but they do serve to bring positive attention to whomever displays them which is a kind of good luck.
But things are not always as "aware" as they seem
Here is a partial list of ribbon colors and associations. The most common manifestation of these is in car magnets which has turned into a multimillion dollar industry.
https://en.wikipedia.org/wiki/List_of_awareness_ribbons
Color palettes and what they represent play key factors in cinema. Did you realize that everything that happens in the Midsommar scenes set in Sweden happens in bright sunlight? Seeing all the colors in the spectrum can only happen in full light. Sunlight itself is considered to be apotropaic and conducting ceremonies in full light with full color is a powerful way to keep evil at bay.
Coney Craftoween 2020 reflects the bright colors of the harvest, the natural world, and the colors found in Folk Horror films. The celebration decor has many different types of apotropaic items to ensure the safety, health, and prosperity of all the Craftoweeners that participate in person and virtually this year.